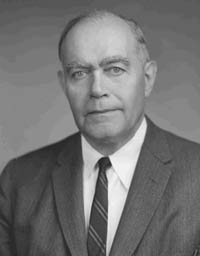 ---

Gov. 1a professor, Leroy B. Williams Professor of History and Government, Harvard, Tennessean, Rhodes Scholar, poet, counselor to six Presidents, contributor to Allied victory in two world wars and the Cold War, advocate of Earl of Oxford as True Shakespeare, and father of Ward E. Y. Elliott. The senior Elliott was born in 1896 in Murfreesboro, TN, went to the Webb School, Bell Buckle, Tennessee, Vanderbilt, Oxford, and the Sorbonne. He was one of 18 Elliotts to study under a Webb. No Webb has ever studied under an Elliott. He was an artillery battery commander in World War I and a member of the Fugitive Poets (William Pratt, Fugitive Poets: Modern Southern Poetry In Perspective, J. S. Sanders and Company, 1991). At Oxford he read Politics, Philosophy and Economics under A.D. Lindsay, Master of Balliol College, met William Butler Yeats, John Marshall Harlan the younger, and V.K. Krishna Menon, and introduced the then-new forward pass to the Balliol Rugby Club, taking them to the University championships. There they got cold feet, declined to use the forward pass, and were trounced by Magdalen College. The forward pass has since been expressly banned in rugby. His dissertation and greatest book was The Pragmatic Revolt in Politics (1928). It presciently condemned the then-emergent doctrines of fascism, syndicalism, and communism as amoral and despotic. Alfred North Whitehead described it as "very heavy going."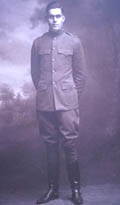 He taught briefly at Berkeley, then was hired by Harvard President A. Lawrence Lowell. At Harvard he taught for 41 years and wrote three feet of books, while commuting to Washington every week to hammer out policy under six Presidents. He never missed a day of class. He was a member of the 40 professors who supported Al Smith in 1928, "Ali Baba and the 40 Professors." He was a Roosevelt braintruster in the 1930's and 1940's. He was an internationalist who saw World War II and the Cold War coming and, fighting the strong prevailing isolationism of the time, did his best to prepare the way for American involvement. He was responsible for the procurement of strategic materials prior to WWII. We owed much of our wartime supply of rubber, tin, nickel, and molybdenum to his sense of urgency. During the War he was Vice President of the War Production Board in Charge of Civilian Requirements. He accompanied Roosevelt to the Yalta Conference, where he warned, presciently but unavailingly, of the oncoming Cold War. Stalin gave him a hideous Georgian hemp rug as a gesture of appreciation. Truman later gave him the flag that flew over the Capitol on VJ Day and sent him with the Tydings Commission to clear the way for the independence of the Philippines.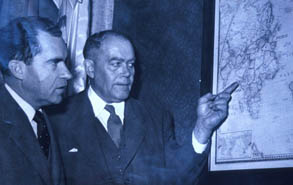 During the Cold War he served on the National Security Council and was a member of Vice-President Nixon's "Kitchen Cabinet" party confronting Soviet Premier Nikita Khrushchev in Moscow in 1957. He was a speechwriter in Nixon's 1960 campaign against John F. Kennedy, which Nixon narrowly lost. Some say that, had Nixon won, he would have become his White House National Security Advisor. As it was, Kennedy, and later Johnson, shrewdly kept him on as a senior State Department advisor.
As Dean of the Harvard Summer School he also founded the Harvard International Seminar, directed by his student and protégé, Henry Kissinger. Kissinger was the first unconverted Jew ever to be appointed to Harvard's Government Department. He scoured the world for emerging leaders and brought them to Harvard for a summer of discussions and classes. Many, such as Israel's Yigal Alon, and Japan's Yasuhiro Nakasone, went on to become heads of state. Kissinger himself went on to become White House National Security Advisor and then Secretary of State under Nixon and Ford. Canada's Premier Pierre Elliott Trudeau was also an Elliott student and protégé.
He retired from Harvard in 1964, taught for several years at American University in Washington, D.C., and eventually retired to his farm in the Blue Ridge, a redoubtable father, Shakespeare-lover, Lincoln-admirer, elder statesman, Cold Warrior, and inspirer of greatness to the end. He died in 1979 and is buried in the family plot in Murfreesboro (read the eulogy.)