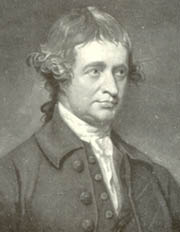 ---

"Though no man can draw a stroke between the confines of day and night, yet light and darkness are upon the whole tolerably distinguishable." Thoughts on the Cause of the Present Discontents (1770).

"To be attached to the subdivision, to love the little platoon we belong to in society, is the first principle … of public affections. It is the first link in the series by which we proceed towards a love of our country and to mankind.

"Society is indeed a contract. Subordinate contracts, for objects of mere occasional interest, may be dissolved at pleasure; but the state ought not to be considered as nothing better than a partnership agreement in a trade of pepper and coffee, calico, or tobacco…. It is a partnership … not only between those who are living, but between those who are living, those who are dead, and those who are to be born." Reflections on the Revolution in France (1790), pp. 136, 192-93.