1999: Robert Tagorda


1998: Jessica Brody, Marc Devore
1996: Ruth Payne
1995: Jake Zimmerman
1990: Brian Hughes, Madeline Zawodny
1986: Diane Silver
back to top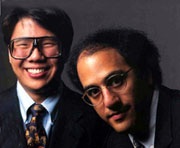 Ryan Iwasaka '94 (left). Biology-Government major at CMC, wrote two theses, "crisp, vivid, focused, and perceptive," one on controlling carpophillis humblalis with biopredators, the other on minor party candidates in U.S. House Races. Vice President of CMC student body, 1994, has a drawer full of prizes and awards. He became a political-science junkie, then a Rhodes Scholar, Oxford, Yale Law School, now clerking for a federal judge.
Theo Angelis '94 (right). Government, psychology, and religion major at CMC, captain of Elliott's honors Gov. 20 class, "The Ruling Class," co-captain of Shakespeare Clinic, 1992-93, president of CMC student body, 1994, wrote pathbreaking senior thesis on how people rank perceived afflictions. His sample said they would give up a year of life to avoid a 10% weight gain, 2.5 years of life to avoid becoming a fundamentalist Protestant, four years to avoid a sex change, 7 years to avoid losing 50% of family wealth. He became a Marshall Scholar, went to London School of Economics, Oxford University, and then Yale Law School. After graduating from Yale, he became a law clerk for D.C. Circuit Judge Stephen F. Williams, and then an associate of the Seattle law firm which serves Microsoft. His chapter "The Price of Social Security Reform: Public Involvement in the Private Market," was published by the Brookings Institution in 1999.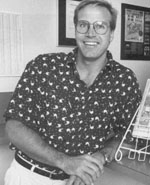 Paul Schultz III '85. Government major, .395 hitter on baseball team, powerful analyzer "comes on like the Ice Age," now VP of Recycler Classified Ads Newspaper.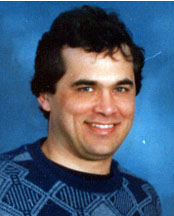 Tom Neff '76. All-America water polo player, intellectual omnivore, government-biochemistry major, wrote senior theses on Strict Scrutiny and protein modeling. Earned his way through fifth year at CMC as lifeguard, took huge overloads, took twice as many courses in five years as the average student does in four. Likes the steepest part of the learning curve, never does anything the conventional way. In class always seemed to know exactly where the professor was going. Taught Elliott kids how to do stress interviews, cope with intimidation. Became a Watson Fellow, traveled to Eastern Europe, smuggled out refugees, dabbled in Weimar German gold bonds. Went to University of Chicago Business School, practiced investment banking for several years, became founder and head of FibroGen, a venture-capital firm doing pioneering work on synthesizing human collagen and combating scarring and other fibrotic diseases afflicting a sixth of the word's population. CMC brother and Elliott thesis advisee: David '81.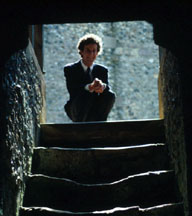 Marcus Wood '85. Government major, campus prankster, wit, aesthete, and general enlivener of life at CMC. Showed up in a tux to serve champagne on last day of Elliott's population class. Wrote thesis on the politics of colors. Came to Elliott's house, Toad Hall, every morning at 6 a.m. to give running training to Christopher, then 12 years old. Did a good job. Christopher won the mile race at Foothill Country Day School that year, still holds the school record . Holds dual U.S.-British citizenship, settled in London after graduation. Dabbled in politics on Tory side, has been mentioned as a prospective member of Parliament. Inventor, holds three patents -- but can he enforce them? One of these could revolutionize construction methods throughout the world. Its simplest version is a belted egg. The egg's near-rigid shell, braced by the tensioned belt, is its own framework. Every year CMC sends its fans a cute, pop-up cardboard calendar about the size and shape of a grapefruit. Unbelted, the calendar will support itself and a 4-ounce deck of cards. Belted per Marcus's concept, it will support a 2-pound King James Bible. Wood's consulting engineers think his concept could permit simpler, lighter, sturdier, 30%-cheaper structures than the sticks-and-skin structures of today, to be mass-produced at any scale. One multi-million-pound structure incorporating his idea is already under construction in England; another is planned. CMC brother: Paul '82.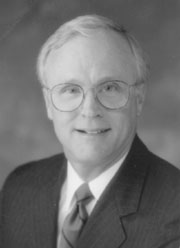 Rick Frasch '74. Debater, campus wise guy, and econ buff at CMC. Wrote pathbreaking senior thesis applying concept of peak-hour congestion charges to Los Angeles. The idea that congestion is a commons, whose ills are curable by charging for externalities, caused scales to fall from Elliott's eyes and became the cornerstone of his smog strategies for decades after Frasch went on to other things. Despite strenuous opposition, congestion pricing has been endorsed by several study groups, incorporated into L.A.'s Regional Transportation Plan, the Clean Air Act Amendments of 1990, and the Intermodal Surface Transportation Efficiency Act (ISTEA). Pilot HOT-lane projects are up and running in Orange and San Diego Counties. Full-scale adoption could save many billions in smog and congestion costs. Having made his point, Frasch went on to Boalt Hall (Berkeley) Law School, handled mergers, acquisitions, tenders, divestitures, and restructurings with a top San Francisco law firm. He later became chair of the Business Law Section of the California State Bar and General Counsel of Talegen Holdings, managed the legal side of that firmís $15-billion restructuring, went on to become President of KLM Capital Management Group, and is now edging into retirement.
back to top







Dion Scott-Kakures
Tom Finke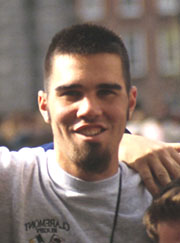 Ben Moran '97. Star rugby backfielder, campfire singer and performer, campus character. As a senior, to the surprise of many, he accepted the role of male defendant in a campus date rape mock trial, a black-hat part, if there ever was one. To everyone's even greater surprise, and in outrageous defiance of the mock trial's intended message, he defended himself with such eloquence that he was unanimously acquitted. He also played the title role in The Rocky Horror Show in an outdoor spectacular at the Fred Sontag Amphitheater, Pomona College. Third member of his family to give the CMC Latin Oration. Brother Josh '92 spoke on the subject of "Tempvs edax rervm." Sister Amy '94 spoke on "Vale, Alligator." His oration, "Cave Canem," under the name of Tertium Quid Saevus Sextvs, was the fiercest in CMC history. He tore off his graduation robe, revealing a toga and sword underneath, waved the sword, and roared out these stirring words: O cervi immortales! O Athenae, invidia mvndi! Effvgimvs morsvm canis! Nvnc nobis svmma licet contingere sidera plantis. Magnvm iter ascendamvs, et dabit nobis gloria vires. Vivat fortvna domvs! Transeamvs svrsvm cordibvs, semper fideles his verbis resonantibvs sapientiae: Crescit cvm commercio civitas! Left everyone in tears. Now a camp counselor in Northern California.
back to top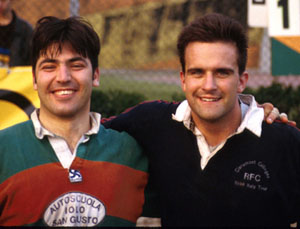 Matt Klawitter '96. Transferred to CMC as a sophomore, was promptly elected captain of his American Government Class, "The Sexual Muppets," and went on to become co-captain and star backfielder for the Claremont Rugby Football Club. He is shown here in Prato, Italy, in 1998 with Damiano, captain of Iola Prato, a pre-eminent Italian Rugby team which had not lost a game on its home field in three years. Iola was the best of hosts before and after the game and a fierce opponent on the field -- but Claremont won the game by two tries. Claremont brother and Elliott Con Law student: Jason '91.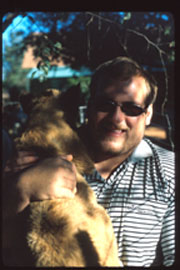 Brian Long '01. Shown holding lion cub during South Africa rugby tour, 2000. Star forward for Claremont R.F.C., big, fast, smart, and willing. Always the first to mingle with the natives on tour, regardless of whether they could speak English. Son of Elliott Con Law student Greg Long '70.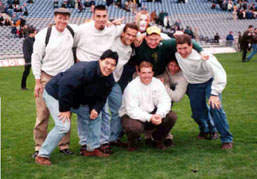 Ben Moran '97, Matt Klawitter '96, and other memorable rugby players, with Elliott after Gaelic Football game, Crome Stadium, Dublin, St Patrick's week, 1997.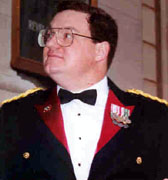 Nathan Mobley III '83. "Mobs" or "Captain Preppie" to his classmates, shown in dress blues at his wedding in Jackie O's church, New York, 1996. No stranger to privilege, yet more a beer person than a wine person -- though he did enjoy the wine served by Marcus Wood in the population class (above). At least it's premium beer. Andover graduate from Greenwich, Connecticut, son of Elliott's Deerfield classmate Nathan Mobley II, grandson of James A. Linen, head of Time, Life and Fortune in its glory days. Government major, football lineman, wrestler at CMC, ROTC student, and war buff. Especially fond of tanks. Family plane is the F-111. Reads International Defense Review, Soldat und Technik, other recondite journals on military strategy and gadgetry. Knows the range and performance specs of everything. Everything. Taught Elliott kids all they know about war and war materiel. Collected lead soldiers when he was a kid. Commissioned in Ordnance at graduation, served several years, Ranger-Airborne qualified, involved in Panama and Grenada invasions while on active duty, performed logistical miracles as reservist for the Gulf War. Now head of Andover Associates, a business productivity consultantcy in New York City.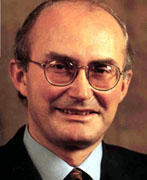 Steve Remp '69. Government/International Relations major at CMC, came from a family of oil drillers and wildcatters, prepped at Vienna International School, ran with the international crowd, pushed for a German-style communitywide Mitbestimmung union in Claremont during a period of bombs, fires, and campus confrontation. Noted for his blistering serve in the Tuesday Afternoon Faculty-Student Volleyball Series. Mitbestimmung, indeed! Was a member of Elliott's wedding party at his memorable marriage, June 7, 1969, the day before his graduation. His CMC experience was no fluke. In the years since graduation, he has been invincibly enterprising, optimistic, and successful in putting together consortia of otherwise contentious partners to tackle high-risk, international projects. He founded Ramco Energy, plc, a small, struggling North-Sea oil services company based in Aberdeen, Scotland. During the dissolution of the Soviet Union, 1989, he was the first Western oilman in 70 years to visit the Caspian Sea oil town of Baku. There his Azeri hosts revealed what had thitherto been a Soviet state secret: the discovery of three giant Caspian Sea oil fields -- ten years previously in 1979! -- by a system which had offered no incentive to develop them. In spite of -- or was it thanks to? the turmoil of the collapse of the Soviet Union, he set up a consortium of international oil giants to develop two of the fields, got exclusive development rights for Ramco for the third field, and got a significant stake in the consortium which unitized the Azeri Caspian fields under one operating company. He and his partners are now using their coalition-building skills to get pipelines built across the miles of politically turbulent landscape which stand between the giant oil fields and the world market.
back to top