In Loving Memory of:
---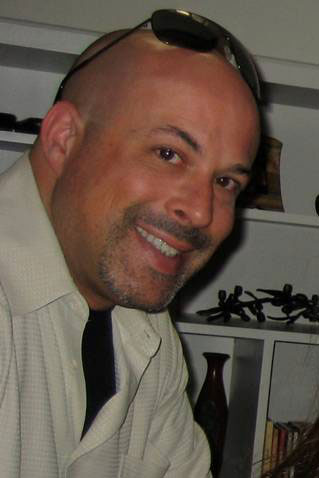 Dr. MICHAEL ANTECOL, who died suddenly on December 29, 2010 at age 42 while visiting Palm Desert, California. Michael was a loving father to Madeleine, devoted son to Faigie (Fay) Antecol and the late Bernie Antecol, adored brother to Heather Antecol, Marla Perzow (Howard) and Bruce Antecol, and a caring boyfriend to Pamela Quintero. Michael was also survived by his niece Berklee Antecol, nephew Adam Perzow (Anne), and niece Jennifer Perzow (Andrew).
During his short life Michael had many dreams, but none surpassed his desire to be a father. The second Madeleine was born the love he felt for her was without words. She could do no wrong in his eyes. She truly was the apple of his eye, as he was to her. They shared so many common loves like skiing together, playing with computers, gadgets, and board games. He loved watching her achievements in soccer and gymnastics. Michael's favorite times with Madeleine were the quiet moments before she fell asleep when they just talked about life as he was rubbing her back helping her sleep.
Michael was a son who was always in tune with his mother. The bond they had could never be broken. As a young boy, she loved watching his every move. She was so in love with him, she used to wake him up as a baby just to show him off to her friends and family. This love and adoration continued as she watched him learn with such ease and grow into a successful man. He shared with her his inner most thoughts and dreams. Michael always looked for her approval in the decisions he made in his life. He rarely made important life decisions without first consulting his mother. In fact, on this last trip they got to share some alone time and talked about all the exciting things that were happening in his life and she got to tell him how proud she was of him. She had so much pride in his accomplishments, although he thought he always had to strive for more.
In Michael's eyes his sister Heather could do no wrong. He was always so proud of her accomplishments. Through their life challenges (also having lost their father at a young age) they always had each other's backs, even if they didn't agree with each other, they took each others side no matter what. Michael could make Heather laugh as no other person could and she had the same effect on him. They went on wild adventures as young children and continued to follow each others successes into adulthood even though they didn't live close together. They always strived to be the best, so much so that when Heather pursued her Ph.D. Michael decided he should too, and in Michael style graduated 10 days before her. This is after Michael already completed a BA, a law degree, and an MA. Michael was unbelievable and Heather loved him so much.
Michael's special bond with his sister Heather carried forward to his special bond with his niece, Berklee. For him, it was like looking back at a reflection and seeing his own daughter Madeleine. He loved to hang out with Berklee, play with her, and most of all lick her whole face.
His sister Marla and her husband Howie always thought of Michael as their "baby brother" no matter how old he was. When Michael moved to Vancouver he was able to connect with Marla and Howie's kids, Adam and Jennifer. Michael definitely provided entertainment at family dinners and was instrumental in initiating Anne and Andrew into the family. They all loved and respected Michael for being Michael and they will miss him more than they can express.
To say Michael was smart is an understatement. He had an unbelievable thirst for knowledge. As a little boy he read the entire encyclopedia collection from front to back. His desire to learn continued throughout his life, as evidenced by his incredible education credentials, his keeping up to date on all current affairs (he kept every single important newspaper clipping from the time he was born in his father's old suitcase), and reading the likes of Plato and Aristotle just because he could.
Michael received a BA at York University, a Law Degree at Osgood Hall, an MA at Western University, a PhD from University of Missouri and a post-doctoral degree from Stanford University. If he could have, he would have stayed in school forever.
At the age of 20 he wrote a book about his life. It was the outlet he needed to express his feelings and emotions. In later years he started another book. He had finished the first half and was diligently working on the second half.
They say a man is rich if he has one true friend. In Michael's case he was beyond rich as he could boast of two true friends (Richard Teicher & Warren Jacobs); friendships that spanned almost 3 decades. Michael was loyal—to him friendship was absolute. Michael was genuine and had no pretense; he was his own person and saw no value in conformity, and he made deliberate choices regarding his friends/friendships. He was a great listener and was always generous with his time if his friends needed him. Michael brought a sense of humor and of course his opinions (with reason) to his friendships. All of these qualities were what made the bonds between these three friends so ever lasting.
For the last four years Michael was at the helm of the Western Canada branch of TNS Canadian Facts. Michael considered his staff more like a second family. They had a very close bond and worked great together.
The family would like to thank the many family members and friends who came to share in their grief and family and friends from near and far who kept us in their hearts during this most difficult time. We would especially like to thank Michael Ennamoratto, Managing Director of TNS Canadian Facts and all the staff, both in Vancouver and Toronto for their kindness.
The family suggests donations to the B.C. or Canadian Heart and Stroke Foundation in Michael's memory.