<!this is where the image of the book is-!>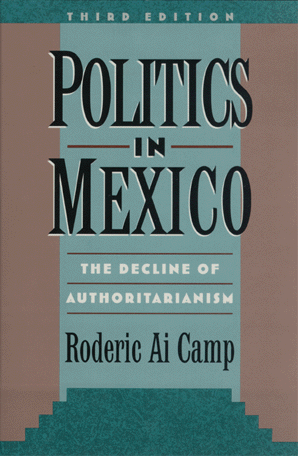 <!this is where the text goes-!> "It is very probable that with Politics in Mexico, Camp has written what will be a classic among students of Mexican and Latin American political science and history."
--Este Pais

"The virtues of this fine, rich book are many. Although it is clearly intended as an introductory text, it can be read profitably by anyone interested in understanding Mexico . . . . I can think of no better introduction to Mexican politics."
--Inter-American Review of Bibliography

Thoroughly grounded in Mexican history and based on extensive field research, this introduction to the politics of Mexico, now in its third edition, examines the roots of Mexico's contemporary political culture. Politics in Mexico not only explores the structure of government and its electoral process but also looks at the impact of the political and economic modernization since 1988 and the possibilities for Mexico's future. Completely updated throughout, this text includes the 1997 electoral data and polling material as well as expanded sections on women, drug-related corruption, the armed forces in Mexico, and nongovernmental organizations and human rights groups. A new discussion of the influence of recent congressional and judicial reforms on decision making is included as well. Comparing Mexico's political processes to those of the U.S. and other nations, Politics in Mexico also offers a far-reaching examination of American influence on domestic Mexican politics. Engaging and clearly written by one of the top scholars in the field, this text is essential reading for courses in Mexican or Latin American politics, comparative politics, and Mexican history.